Sectors
Cosmetic industry
Green technology
Agrifood industry
Green Finance
Manufacturing of Textile, Apparel, Leather, Footwear and related products
Information and Communication Technologies (ICT)
Type of the event
Face-to-face event
Target audience
The Forum is expected to draw on the participation of Jordan authorities, private sector companies, members of regional business networks and industry associations among others from the MENA region and Europe, mainly Italy. A total of 100 participants including Jordanians are expected in Amman to attend the Forum.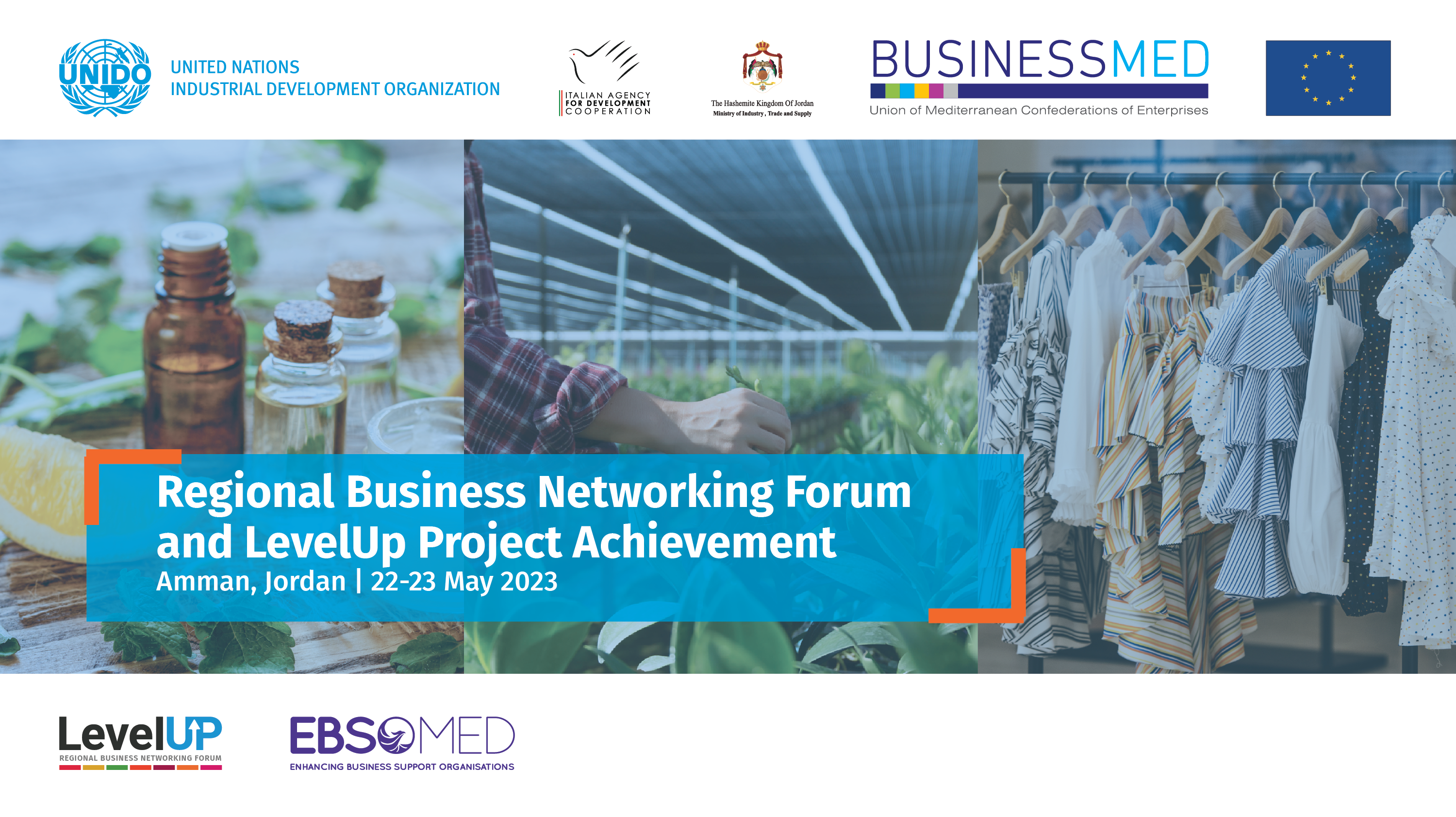 MAIN OBJECTIVE OF THE FORUM
The objective of the Forum is in two folds, 1) Present the key achievements of the LevelUp project and, 2) Promote Business-to-Business (B2B) networking while showcasing best strategies/practices to strengthen export-oriented value chains, in particular, Garment and Fashion, Food Supplements and Natural Cosmetics. Private sector companies from the Middle East and North Africa (MENA) region – Egypt, Iraq, Lebanon, Palestine, Syria and Italy are expected to join the Forum.
BACKGROUND AND RATIONALE
The Forum will be under the patronage of the Ministry of Industry, Trade, and Supply (MITS) of the Hashemite Kingdom of Jordan and organized within the framework of the LevelUP – Advancing Jordanian Industries project entitled "Job Creation for Youth and Women through the Improvement of Business Environment and Small and medium-sized enterprises (SMEs) Competitiveness" funded by the Italian Agency for Development Cooperation (AICS). The LevelUp project is implemented by the United Nations Industrial Development Organization (UNIDO), in partnership with the Ministry of Industry, Trade, and Supply (MITS) of the Hashemite Kingdom of Jordan and aims to increase Jordan's private-sector contribution to job creation and promote the economic inclusion of youth and women (including through self-employment) by supporting the development of competitive small and medium-sized enterprises (SMEs). Level UP – Advancing Jordanian Industries (levelupjordan.org)
The event is organized in partnership with the Union of Mediterranean Confederations of Enterprises (BUSINESSMED) and is supported by UNIDO Investment and Technology Promotion Office (ITPO) Italy, with its unique role as a broker to investment and technology agreements between developed, developing countries and countries with economies in transition.
The main objective of the Forum is aligned to the joint efforts by UNIDO and MITS within the project to avail opportunities for Jordanian SMEs and entrepreneurs to engage with companies in the MENA region and Italy to promote business networking, while showcasing best practices and achievements of the LevelUp Project.
FORUM ORGANIZATION
Forum methodology
The Forum will employ a dynamic and interactive approach to facilitate sharing of experiences and best practices among participating companies from the MENA region, Italy and Jordanian SMEs. The B2B thematic roundtable sessions will be organized in parallel with the session to present the key achievements of the LevelUP project. Throughout the Forum, opportunities for participating SMEs to network will be facilitated by BusinessMed's Business Country Desk Platform (BCD), B2B matchmaking platform powered that combines a vibrant marketplace with a dedicated space for networking and brokerage between business operators (companies, SMEs/ start-ups) and institutional structures.
Language requirements
The working language of the Forum will be English, and interpretation in Arabic will be provided. All documentation and background materials will be available in English and Arabic.